ROCK TRAILS
series of guides to the geology & scenery of hillwalking areas of Britain

Rock Trails Scottish Highlands - Rock Trails Peak District
Rock Trails Lakeland - Rock Trails Snowdonia
The
Rock Trails
books explain in plain language the geology and scenery of popular hillwalking areas. The books are written for hillwalkers who want to know a bit more about the landscape and scenery of Britain's hill and mountain areas. Each book is divided into two parts, with the first part explaining the geological history of the area. The second part of the books contain up to fifteen recommended walks which explore the geology and scenery on the ground, covering well known routes as well as less familiar tracks.
Rock Trails South Wales

"provides an interesting and clearly thought-out introduction to the geology and landforms of this complex, varied and beautiful region ... an excellent route through which to develop an interest in geology and gain further insights into the past history of this beautiful country. It is a real delight to find an author capable of explaining such complex scientific material in a manner that is genuinely accessible to a non-specialist audience." Catherine Isherwood
Professional Mountaineer magazine


"a clearly written guide aimed at the hillwalker interested in the geology and scenery of South Wales … packed with colourful photographs and clear maps and diagrams"
Fforest Fawr Geopark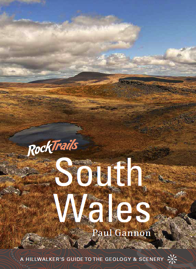 Each book contains 200 or more photos, maps and diagrams, including a fold-out topographic map and a fold-out geology map inside the front and back covers, as well as a list of grid references of all local place names mentioned in the text and a geology glossary.
'With the publication of the Rock Trails Peak District volume, we have the third in what I hope will be an ongoing series. Historically, we have to go back to the 1970s for a series of books which started with landscape: the David & Charles 'Geology Explained' books.'

Down to Earth
magazine


'I was highly delighted to have come across a couple of guide books written by a fell walker covering classic UK mountain walks, but also explaining the geology and landforms of the larger area together with what can be seen and explored. Everything is beautifully explained using simple but colourful diagrams'

Deposits magazine
Paul Gannon also organises geology walks - for more information go to
the 'geology walks' page on this website
Published by Pesda Press -
www.pesdapress.com